Regular price
$49.99 USD
Sale price
$21.99 USD
Unit price
per
Sale
Sold out
DO YOU DREAM OF HAVING A GOOD LOOKING MANLY BEARD?
Are you ready to finally grow your beard properly? Very good, because here is the solution you need for that! The Titanium Beard Derma Roller has proven time and time again to help men all over the world achieve their dream beard. Are you next?




When the Beard Roller is placed on the skin, small microscopic damage is created in the skin. This triggers the body to repair the damaged cells by improving blood flow to the area. The blood contains nutrients and healthy hormones that initiate the healing process. This process leads to cell proliferation, causing the hair follicles to become thicker and more numerous. The combination with our Natural Beard Growth Fluid ensures fast hair growth.

Tip: It works for your scalp hair too!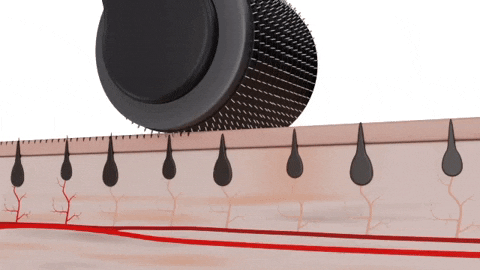 THE BEARD DERMA ROLLER HAS HELPED MANY MEN ACHIEVE A BEAUTIFUL FULL BEARD. SOME BENEFITS OF THE BEARD DERMA ROLLER:
Increases collagen production and blood flow, which also significantly increases beard growth; this is a boost to your sex appeal.
Hair follicles come back to life.
Promotes smooth and healthy skin in the applied area.
Reduces wrinkles and skin impurities.
EASY TO USE:
Start with 2-3 times a week - 1-2 minutes each time - and slowly increase the frequency of treatment.
The Natural Beard Growth Fluid can be applied to the skin to be treated before and after treatment.
Roll the Beard Derma Roller over the skin to be treated without exerting much pressure.
Rinse the Beard Derma Roller under warm water after use and clean the needles with an alcohol spray or soak them in alcohol.
The treated skin may redden, this is normal. The redness will disappear after a few hours.


SCIENTIFICALLY PROVEN:
In a 150-day clinical study, our products have proven impressive results for beard growth:
97% of men activate new facial hair.
Improved beard density (88% on average).
Improved hair density (85% on average)
Share
View full details